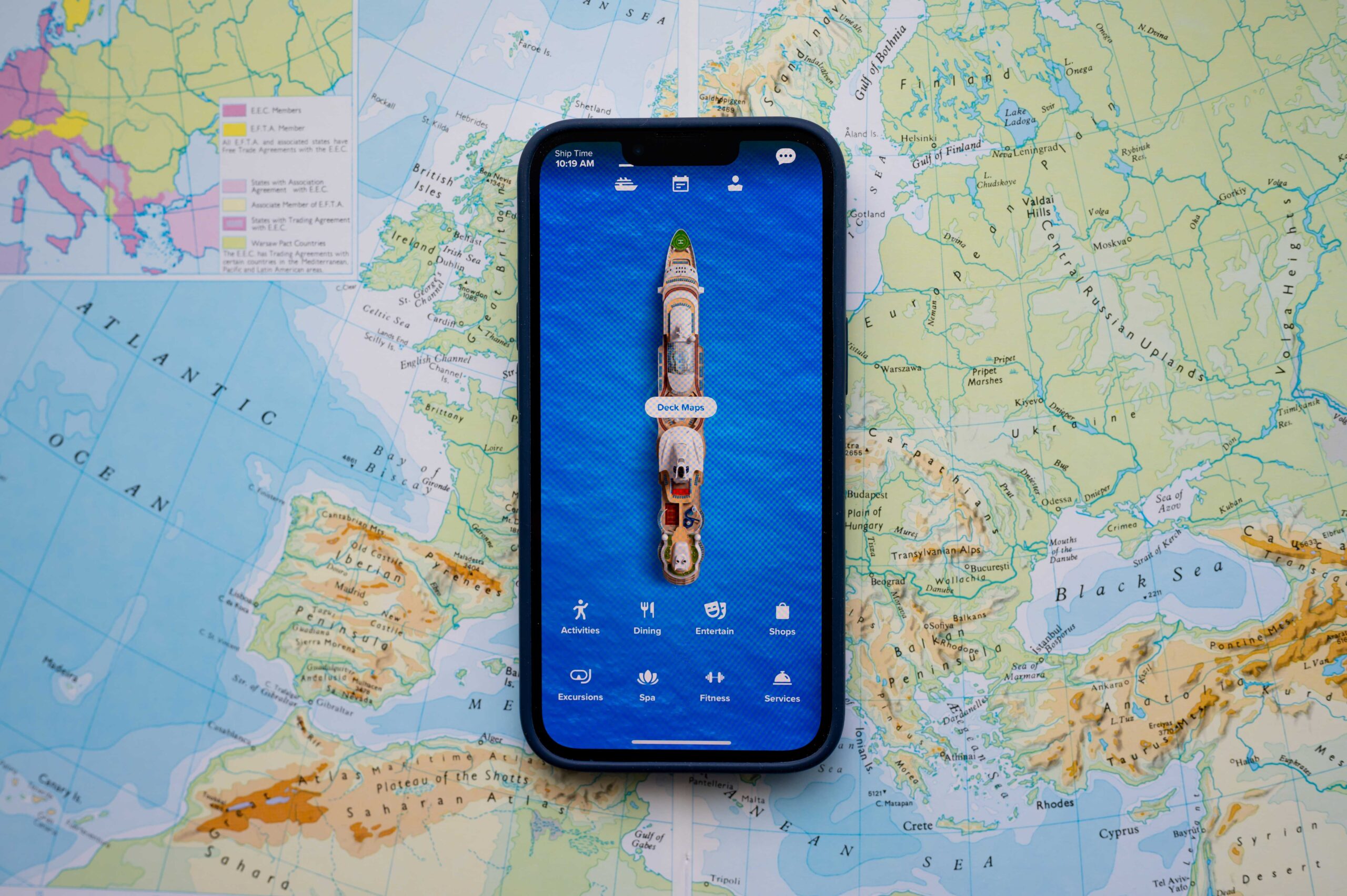 Since we began investing time and research into mobile cruise apps in 2018, we have seen a lot of transformation and development in the space. Initially, cruise apps seemed to be all over the place in terms of features, but over the last several years the apps have gained more direction and focus. What began with packing checklists for guests and virtual images of the ship has evolved to more standard contents that include a passenger's folio, reservations for dinner, excursions, and more. The COVID-19 pandemic helped shape the progress of the apps, as the need for contactless materials and more accessible health information became evident. 


Our team made assessments in 2022 on the functionality of mobile cruise apps, projecting they would become more insightful to the guest experience, while also taking into consideration how improving the guest experience can also have a positive impact for operations. A great example of an operations improvement we have seen is adding the ability for a passenger to cancel booking reservations—greatly reducing the workload for the guest services department. Additionally, we anticipated an increase in digital health documents and medical information, which we continue to see grow over all paper handouts. Moreover, we estimated advancements in push notification systems, which we saw with Google and Apple's newly deployed ways to send local push notifications. Moving into 2023, here are some further thoughts on how some of the mobile cruise app trends will continue to advance.


Get a free copy of our 2023 River Cruise Mobile App Report here.


Increased Medical and Health Integrations
After the onset of the global COVID-19 pandemic, it became commonplace for cruise apps to incorporate health features and updates directly in the cruise app. This inclusion allows guests to receive relevant health updates and travel information in a timely manner, while also alleviating the burden on the cruise line's customer service and call center infrastructures. This trend will continue with new enhancements and features—becoming the one source for all health-related travel information before and during the cruise. 
Pre-Cruise and Post-Cruise Features
As we predicted in previous years, we are certain there will be further enhancements to the pre-cruise and post-cruise features in the apps, with additional emphasis placed on pre-cruise. Adding more pre-cruise features will entice passengers to use the app before the cruise, giving users the opportunity to get comfortable with the app prior to departure, creating a more user-friendly experience for travelers. Additionally, this early adoption will allow cruise lines to send communications via push notifications to passengers prior to the cruise, enabling instant and seamless communication in the weeks and days leading up to departure. 
Some examples of pre-cruise features that will likely continue to expand are excursion booking, meal reservations, ship entertainment and schedule information, and cruise countdowns showing the days left until departure. In addition to the pre-cruise features, expanding post-cruise app features will enable cruise lines to push guest experience surveys, along with ongoing special promotions and marketing initiatives.  
Phasing Out Onboard Print Materials
Over the last several years, we have seen many industries reduce and remove printed handout materials due to health and safety concerns related to the ongoing pandemic. With the consistent advancements in app technology, the need for costly daily itinerary and ticket printouts is no longer necessary. Requiring guests to opt-in to receiving and retrieving information digitally not only saves the company dollars, it also further encourages passengers to use the app. 
All Things Digital
We have previously predicted that digital versions of safety drills would become the new standard, and in-person mustering will soon give way to fully digital versions to modernize the boarding process for crew and guests. We predict this trend will continue in 2023, with even more pre-registrations completed online, enabling more efficient group boarding processes. Even though we are seeing progress in app usage and technology, few cruise lines have yet to become fully digital, and remain in a hybrid model of digital and in-person.
Updates for Push Notifications
The incorporation of the local push notification systems for Android and Apple helped inspire a generation of new onboard app features across the cruise industry. This evolution in local push notification systems has allowed cruise lines to roll out a variety of onboard notifications. Most apps now have an in-app chat feature, allowing for more streamlined guest-to-staff communications. Passengers can receive real-time push notifications for event reminders, dining reservations, extracurricular activities, as well as for important ship safety, health, and weather information. Guests had previously provided feedback on improving the reliability of the notifications, and cruise lines have taken this feedback into consideration when developing app enhancements and updates.
Conclusion
We have experienced major growth in the mobile cruise app space in the last five years, and we anticipate improvements will continue to evolve at a fast pace. As more guests expect user-friendly experiences for bookings, reservations, and instantaneous communication, cruise lines will continue to improve their apps to satisfy these demands. It will be interesting to review how the space has grown in 2024 and reflect on the progress being made to align guest experience with the need for increased operational efficiency.